Hands-On Review: Zildjian Gen16 AE Cymbals
A revolutionary development brings acoustic cymbals into the electronic age
By Dendy Jarrett
Harmony Central Contributor
Cymbals. Drummers are fascinated by them—the variety of sounds that different lathing and hammering can produce. So I was naturally skeptical when called on to do a review of "an electronic cymbal." My first foray into the use of electronic drums came in the early 1980s when touring with a major act. I was "forced" to use an electronic kit in the latter part of the tour in order to cut down on volume. Perhaps my skepticism stems from that experience, but in the early days of electronic drums, the technology was far from perfect. That has all changed. Besides the quantum leap in technology improvements available to Zildjian, their Gen16 Acoustic-Electric Cymbal series has more in common with conventional hammered and lathed cymbals than a typical electronic trigger.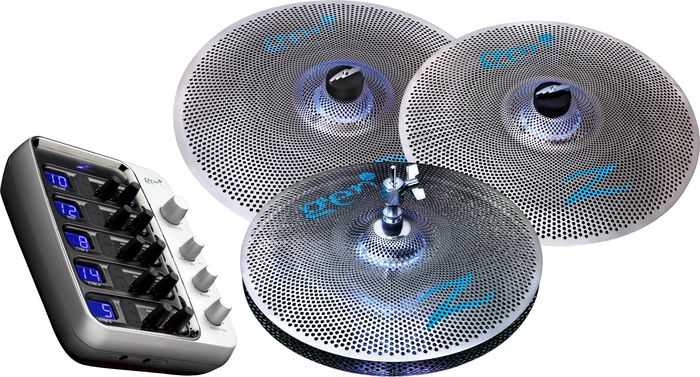 First impressions
When the Zildjian Gen16 cymbals arrived, I was surprised that the compact packaging contained a 16" crash, 18" crash/ride, 13" hi-hats, DCP (electronic brain) with mount and power supply, snake cable, three pickups, and mounting accessories—all in a 20-pound box. My review set is technically termed the G16AEBS2 or Gen16 AE Cymbal Box Set 368, but two other hardware configurations are available along with several software expansion packs.
The next surprise is that the Gen16 system is comprised of actual cymbals, not electronic pads, like the ones you're used to seeing in electronic kits. These look like cymbals, feel like cymbals, and play and sound like cymbals. The AE Cymbals sound like cymbals because they are cymbals—just ones that sound as if they're off in the distance because of their lower volume.
Unplugged and plugged
While technically not designed for this use per se, the Zildjian AE Cymbals sounded strikingly realistic right out of the box without being plugged in. I play a lot of acoustic sets in small venues, and I would not hesitate to use these cymbals as is without their electronic counterparts. Their acoustic sound alone—augmented by a slight stage bleed into an open vocal mic—would be just the ticket for many settings.
My next concern was how did they articulate? The answer is that they feel like you're playing real cymbals because, again, these are real cymbals. Their authentic (though volume-reduced) sound is the result of thousands of holes drilled in the cymbal. Remove mass and you reduce volume.
Once you do plug in the AE Cymbals, prepare to be amazed. This is not some sort of electronic gizmo that adds lots of distortion and compression in an attempt to provide "cymbal emulation." Rather, these instruments sport a true, core cymbal sound that is enhanced through state-of-the art processing and effects.
Intuitive setup
I am not an electronic wizard, and quite frankly am intimidated when dealing with complex studio or PA gear. So I was a little anxious at the thought of putting the AE Cymbal parts together. But I needn't have worried. You simply drop the AE Cymbal Pickup on the stand first, then add the sleeve and provided neoprene washers, and you're ready to play. It's exactly like mounting your regular cymbals.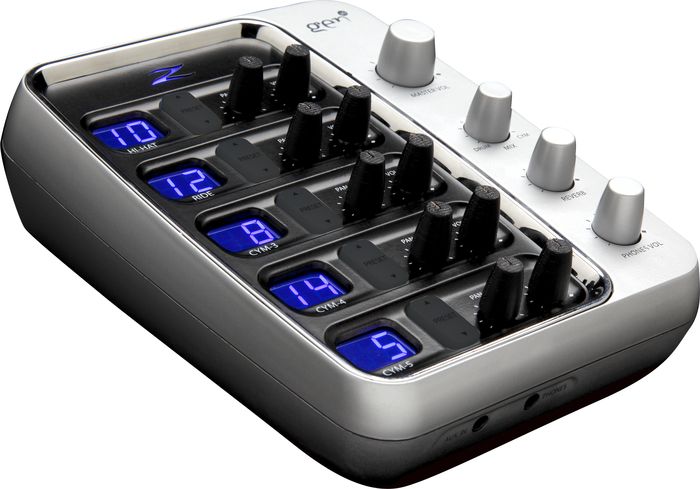 The directions are clear and the assembly is intuitive. The "box" you plug into is called a DCP (Digital Cymbal Processor), and is basically a small, five-channel processor with an aux in, headphone jack, five-channel snake with color-coded ports (for quick and easy hookup), a USB2 port, and two input channels for mixing in your other electronic drums. I was up and running in 10 minutes (and even sooner the second time). The DCP has a magnetic mount that can be used with most multiclamps. The pickups have a blue LED band around them that, when powered up, casts a cool glow under the cymbals. This adds to the cool quotient!
The brains of the operation
So you have these real cymbals, and you have them plugged in. What happens next? Let's focus on what the system does with just one cymbal. The DCP allows you to create many variations on the cymbal's natural tone, including pitch-shifting. With the tonal shaping that the presets allow, a cymbal's sounds can range from a dark hand-hammered crash to a piercing lathed cymbal to an all-electronic metallic invention. There are 20 presets in all, user-editable and storable. You can also add reverb to get that big-bucket crash sound when playing a power ballad. The DCP can completely transform your cymbals or keep them in the realm of the realistic, but with infinitely subtle shadings. Additionally, the DCP's pan control allows you to place the cymbal in the stereo sound field—stage left, stage right, center, or anywhere in-between.
Conclusions
The Zildjian Gen16 cymbals played acoustically without benefit of the electronics could be used in an unplugged setting and work great. That's a testament to the fact that any enhancement starts with a real cymbal sound at its core. Once hooked up to the DCP, you get the Gen16's full sonic capabilities and unlimited tonal variety. A complete set of AE Cymbals can be used as replacement cymbals in your acoustic set, or you can incorporate them into an electronic drum set to increase the realism factor. To quote Russ Miller, "Once you play these, you'll never go back to an electric pad cymbal again!" The AE Cymbals merge the electronic and acoustic worlds by providing the versatility and range of a sophisticated electronic controller with the authentic sound and feel of an acoustic cymbal.
Features & Specs
16" crash
18" crash/ride
13" hi-hats
DCP with mount and power supply
Cable snake
3 pickups
Cymbal and hi-hat mounting accessories (includes 2 sets of neoprene washers, 1 sleeve, and 1 metal washer per cymbal, plus a hi-hat clutch)
Tags: Cymbals Electronic Drums Zildjian