Hands-On Review: Yamaha DTX900K Electronic Drumset
Electronic capabilities, acoustic feel, any sound
By Craig Anderton
Editor in Chief, Harmony Central
My very first instrument was drums, because my father was a drummer.  Although I ended up playing primarily guitar, my dad gave me a real sense of what made for good drums and drumming … so when Yamaha claimed they'd been able to emulate the acoustic drum experience with electronic drums, I was definitely intrigued.
Overview
The DTX900K drum kit includes a kick pad, three - 10" tom pads, 12" snare, hi-hat, 15" cymbal, two -13" cymbals, tone generator module, a curved rack mounting system, and all necessary cables and clamps—everything except the kick drum pedal and throne. From first opening boxes to having everything setup took about 90 minutes (less than I expected). The Yamaha drum kit has a solid, substantial feel, as befits both the price and Yamaha's reputation.
The DTX900K feature set is extensive—I could easily see studios setting up a DTX for their back line, so drummers could walk in and record straight into a computer, triggering either Yamaha's sounds or other drum software.  When playing through a PA (choose a system with good subs), after years of triggering virtual drums in computers, the lack of latency was refreshing.
Yamaha offers a substantial sound set, from very acoustic to very electronic—50 kits total, as well as 116 kicks, over 141 toms, 258 snares, etc. Not enough? Sample your own sounds (requires installing optional DIMM memory) and warp them with the onboard effects. Yamaha has a reputation for nailing their samples—just listen to their keyboards—and the DTX series is no exception.
Check out my pad
But the star of this show would have to be the pads, which feature what Yamaha calls Textured Cellular Silicone. Yes, I was one of those people who just about sprained my wrist playing those rigid electronic drumheads that were so popular in the '80s, and it prejudiced me against electronic drums in general. The DTX's XP-series pads, though, are something else. First, the tom and snare pads actually feel somewhat different. Second, the pad's surface has a "spongy-with-resistance" quality that is easy on the wrists, and has the right amount of "give" when you hit the head. The sound of hitting the head seems a lot quieter than most electronic drumheads, which is great if you're miking, say, a bass amp in a confined space and don't want to pick up the clackety-clack of drum hits.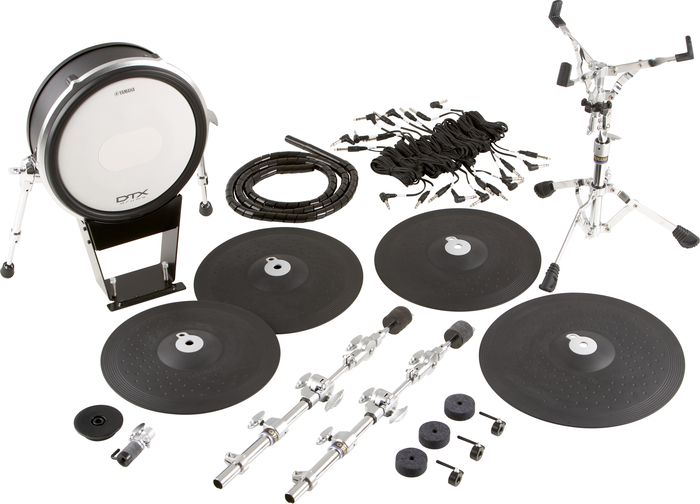 The response also feels more even, over a wider range, than most other drum pads I've played; if you hit it the same way twice, it sounds the same way twice. Sensitivity to nuances is very good—you don't have to bash them—but you can bash them if you want. The excellent responsiveness was a bit of a surprise, as the pads use standard piezo trigger technology; I assume the difference is the pad material. And of course, you're not limited to just hitting the head, as the XP pads also have two rim sensors. There's an easily accessible pad control on top for tweaking particular pad parameters (this depends on the patch but, for example, it might control tuning), as well as a more hidden control on the bottom for setting sensitivity (which also affects loudness).
The cymbals are rubbery, not metal, and respond to various playing techniques including choking and muting. The hi-hat is quite impressive, with my favorite feature being that the "closed" sound is more than just switched—if you press down on the hi-hat controller while the hat is closed, the sound gets "tighter." You can also do bow shots, edgeshots, and the hi-hat "splash" sound.
The "workstation" electronics
The DTX900's module goes beyond a collection of drum sounds. I like that you can sample, but I also like the onboard sequencer, especially because you can trigger songs from the pads—and there's no law saying you can't trigger a really short song to create a riff. Also, the effects are outstanding, not just in terms of the variety, but quality. If you use particular effects live and then go into the studio, you likely won't feel the need to replace the onboard effects with external processors.
Conclusion
While Yamaha promotes the DTX series to professional drummers, which obviously makes sense, I can also see these Yamaha drums becoming a fixture in recording studios of all types, particularly where noise is an issue.  Nothing sounds more like a drummer than a drummer, so link that drummer up with realistic sounds, and the track will almost certainly seem more "alive" than drum parts programmed from a keyboard controller or equivalent. I also feel the pad responsiveness may lead to better parts because drummers will be working with the pad, not against it.
The first time I heard DTX drums being played, I thought they were well-miked acoustic drums until I got closer to the stage. If you haven't checked out electronic drums in a while, the DTX series proves that they've really come of age—for playability as well as sound quality.
Features & Specs
Exceptionally responsive pads
Solid, easy-to-set-up hardware
Kick pad, 3 – 10" tom pads, 12" snare, hi-hat, 15" cymbal, 2 - 13 cymbals, and curved rack mounting system
Very flexible electronics for both sound and functionality
USB ports (to host and to device) for computer interfacing, MIDI transfers, and storage
Standard 5-pin MIDI ports included
Includes Cubase AI5 (and the DTX900 can remote control it)
Main stereo outs, S/PDIF out, 6 individual drum outputs, and headphone out
The sampling function offers time stretching, pitch conversion, normalization, slicing, and more
This state-of-the-art electronic drum set is equally at home on-stage or in the studio, including today's computer-based recording environments.