Hands-On Review: Roland Octa-Capture Audio Interface
Sometimes you need an interface that goes to the next level
By Craig Anderton
Editor in Chief, Harmony Central
There are three audio interface essentials: It has to supply the I/O you need, have solid/efficient drivers, and be compatible with whatever you throw at it. As many interfaces fit those requirements, what makes one interface best-suited to your needs is often whatever unique features it incorporates. Roland's Octa-Capture—their flagship interface—not only delivers the basics, but provides additional, well-thought-out convenience features and functionality.
Essentials
The surprisingly compact Octa-Capture works with Mac OS X Core Audio and ASIO/WDM on Windows XP/Vista/7, while connecting via USB 2.0. It handles 32- and 64-bit operating systems, offers 24-bit resolution, and supports 44.1/48/96/192kHz sample rates (although 192kHz has limitations—four audio channels instead of eight, no reverb, and no S/PDIF I/O). The drivers offer exceptionally low latency; with my 64-bit Vista multicore computer, Octa-Capture easily handled 96 sample buffers using WDM with complex audio-for-video projects—excellent.
As to I/O, there are eight mic/line ins, with four front-panel combi XLR+1/4" jacks and four rear-panel combi jacks. Eight 1/4" TRS jacks provide the outs; coaxial S/PDIF stereo I/O brings the total I/O to 10 in/10 out. Thoughtfully, the first two front-panel inputs have a high-impedance option for guitar/bass, while inputs 7 and 8 have extended headroom for recording highly dynamic signals (e.g., kick drum). There's a front-panel headphone jack, and physical MIDI 5-pin DIN I/O connectors—something too many companies omit from their audio interfaces.

The mic pres deserve special mention. They seem very similar (if not identical) to the ones in my V-Studio 700 audio interface, which are notable for their transparency. Note that these aren't "character" mic pres, but very open, clean preamps that are faithful to what you put into them. I prefer that kind of preamp, as I can rough up the sound later if needed but I always want to capture audio accurately. Also note there's no fan, so it's quiet; and the power supply handles 100-240V, 50/60Hz.
Onboard DSP
This further differentiates Octa-Capture from the pack, as onboard DSP provides each channel with a low-cut filter, compressor, phase flip option, and level control, edited by a control-panel application. You can enable phantom power for individual channels—you're not limited to applying phantom power to input groups, as happens with typical budget interfaces. Interestingly, Octa-Capture dedicates a separate power supply to phantom power so it can deliver a full +48V to all inputs simultaneously.
The onboard DSP is valuable for two reasons. First, you can process the signal going into the computer. With live recordings the compressor provides a margin of safety against overload, but this is also useful in the studio when you don't want distortion to wreck a take (particularly because the compression is unobtrusive when set properly), while the low-cut filter allows getting more signal into your DAW and minimizes "rumble" on the way in.
Second, all DSP settings can be saved as presets—create presets for particular vocalists, drum miking setups, background singers, session types, etc. For example, I use a particular setup for narration, another for vocal overdubs, and another for basic tracks involving guitar and bass. Being able to set these up exactly as desired, then save them, is a major time-saver.
Furthermore, the onboard DSP lets Octa-Capture include a great feature called "Auto-Sense" for automatic level setting: just play at maximum level, hit Auto-Sense, and levels are optimized to provide maximum level while retaining a bit of headroom. Sure, I can set levels; but this speeds up the process dramatically. Finally, there's onboard reverb—great for when the singer wants some reverb in the headphones while singing.
Monitoring
Octa-Capture offers two types of monitoring. You can set up four traditional monitoring buses and create separate mixes for each, and/or use the zero-latency monitoring option to patch inputs directly to outputs, bypassing the computer, for monitoring a sound with no latency—particularly important when recording percussive instruments. You'll also find front-panel controls for setting the most crucial parameters in typical monitoring situations.
Plays nice with others
I was pleasantly surprised that Octa-Capture can work in conjunction with the V-Studio 700 or 100 to provide additional I/O, with the DAW seeing the combination as one big interface. It's also possible to run two Octa-Captures together (however with multiple units, 192kHz is not an option).
Conclusions
The price is considerably lower than I expected for a unit with this level of quality and control. Because I do mostly solo projects, I seldom use all eight mic ins—but having them available means my entire setup is normalized, ready to go, and thanks to the presets, instantly recallable. Couple the pro-level sound with pro-level convenience (thanks in large part to the onboard DSP and control panel software), and you have an interface that's clearly intended for those who want to move beyond simple interfaces to a higher level of performance.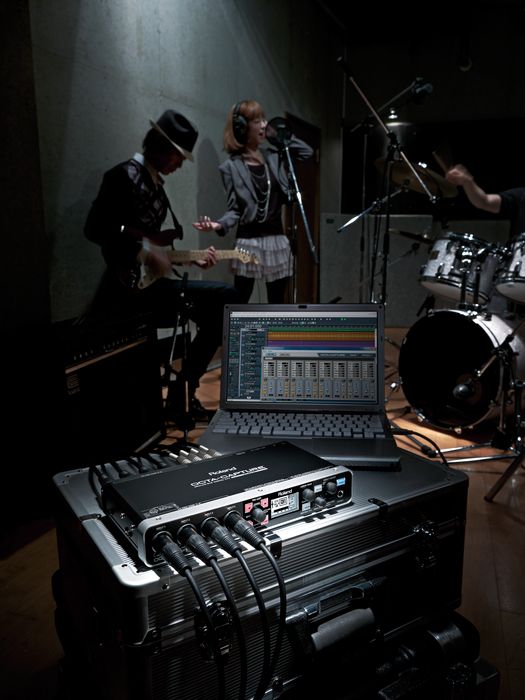 Features & Specs
Mac/Windows compatible, Core Audio/ASIO/WDM
Extremely high-quality mic preamps with individual phantom power
Unusually low latency
Zero-latency monitoring available
Onboard DSP with low-cut filter, compressor, phase flip, reverb, and level-setting
Can save entire setups, including levels, as presets
Easy to use, with unambiguous display
Comes bundled with Sonar 8.5 LE (Windows only) and 3 Mac/Windows instruments (Rapture LE, Cakewalk Sound Center, and Studio Instruments Drums)