Hands-On Review: Zoom R8 Recorder, Sampler & USB Interface
Recorder, sampler, interface, controller . . . for starters
By Craig Anderton
Editor in Chief, Harmony Central
I'd seen the Zoom R8 at NAMM, and was familiar with the main selling points—it's the R24's little brother; records to SD cards (up to 32GB); and incorporates a USB 2.0 audio interface, control surface, and sampler with an emphasis on drums and loops. If you don't dig any deeper than that, you have a very portable, fine-sounding field recorder/inspiration catcher/rehearsal archiver. Case closed, right?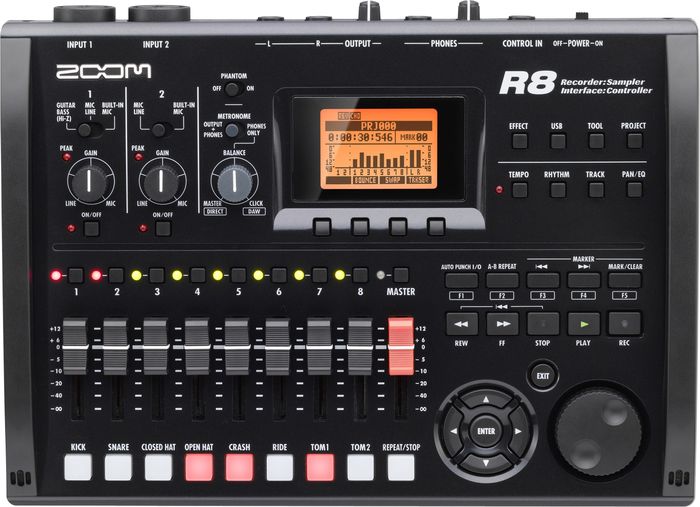 But when you get your hands on one, you start to realize just how deep you can dive into the Zoom R8 and how many features it has. Just when you think "Well, I'm sure it can't [fill in the blank]," you find that it can—whether it's built-in time-stretching algorithms, being Mackie Control-compatible, or having built-in mics so you can capture ideas without plugging in anything. For example, not only does the R8 have phantom power for the two XLR/line combo ins (with one switchable to instrument), but you can choose between +24V to save power (this works with most condenser mics) or +48V if your mic needs full power. Speaking of power, you can run the R8 off USB, an included (non-proprietary) AC adapter, or four AA batteries.
Given the price, I expected the R8 to feel cheap. Yet the buttons have a positive, solid feel and "click" for tactile feedback (except for the velocity-sensitive mini-pads, of course). And although the faders are only 40mm long they feel smooth with virtually no "wobble." Even the included USB cable is over 6 feet long (cell phone manufacturers, take note!). The SD card doesn't stick out the side, but is safely recessed.
Getting started
Rather than run down a list of features—you can get that from the Musician's Friend or Zoom websites—I think it's more important to consider how effectively the R8 lets you actually make music. There are two main issues: How fast can you capture inspiration, and whether (if needed) you can take that inspiration and transfer it to a DAW for a broader-based recording environment. I've used some older all-in-one units that, while capable, had operating systems so opaque that any time you gained was lost trying to figure out how to perform basic functions.
The acid test: Recording without reading the manual. For basic functions, the Zoom R8 is a breeze. All the main functions are right on the front panel—you can start recording and overdubbing without having to enter menu-land. I was able to record two tracks (you can record two tracks at a time and play back eight) using the built-in mic in under a couple minutes. I wanted to see how hard it was to add reverb as a send effect; I hit the track button (which seemed logical enough), but that didn't reveal a send control so I hit the Pan/EQ button, and bingo! A reverb send. If you just want to use the R8 as a recorder, you could probably operate it while semiconscious.
I couldn't figure out how to add a rhythm track using the drum machine, so I read the manual—which is how I found out that it's well-organized and logical. Within minutes, I had a reference rhythm track. Laying down a full-blown rhythm track, where you use multiple patterns and create drum parts, is more complex; it's a lot faster to choose a basic rhythm as a sort of glorified metronome, then go back and create a "real" drum part.
Computer interfacing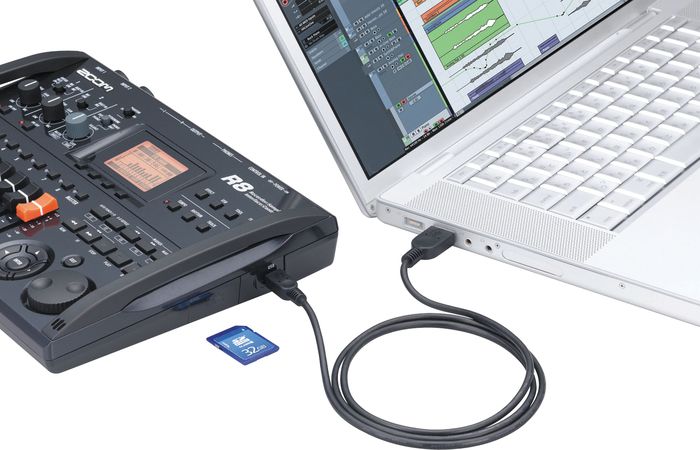 I also didn't have to read the manual to get the Zoom R8 working with Mac or Windows (32- and 64-bit compatible), either as a 2x2 audio interface or by treating the SD card as an external drive. As an interface the R8 can do 88.2kHz and 96kHz sampling rates; as a recorder, it does 44.1/48kHz (16- or 24-bit), although you can use effects only with 44.1kHz. Also note that while you can import files, they need to be the same sample rate and bit resolution as the project. As a control surface, the R8 is more than you might think—transport, faders, bank select, auto-punch, etc. There are also five assignable function keys that follow the Mackie Control protocol.
Conclusions
Don't let my emphasis on simplicity fool you. Yes, it's easy to get started—but there's lots more if you want to dig deeper, and the interface is (thankfully) consistent enough that even the deeper functions aren't too many button clicks away. It's possible to split files, create a playlist of projects (backing tracks, anyone?), create your own rhythm patterns, bounce tracks, trim files, edit effects … you get the idea.
What I expected and what I found were two very different things. With the R8, Zoom has not only created a highly functional, portable recording/songwriter's companion device, but clearly put a lot of thought into making it simple to use, and capable of handling a variety of tasks. Frankly, I'm impressed.
Features & Specs
2 tracks simultaneous record, 8 tracks playback
Drum machine/sampling function
Mackie Control-compatible control surface
Mac/Windows USB 2.0 audio interface (44.1/48/88.2/96kHz, 24-bit)
Battery, AC, USB powered
Over 140 internal effects (146 types and 370 patches)
24V/48V phantom power and instrument input
Comes with Steinberg Cubase LE 5, 500MB of drum loops from Big Fish Audio in the included 2GB SD Card
Zoom's R8 puts recording, interfacing, sampling, and control surface capabilities in a compact, cost-effective package.