Hands-On Review: Sterling Audio Condenser Microphones
Serious performance without the serious price tag
By DJ Adams
Making good music requires craftsmanship. In performing, recording, or composing, one must develop certain skills and techniques to produce the best results. Craftsmen . . . might I be so presumptuous as to invent my own politically correct, non-gender-specific word— "craftspersons"—also are often very attached to the tools of their trade. They can also be fiercely loyal to certain brands. But in an age when gasoline is like gold and "cost is no object" is seldom heard, the holy grail of purchasing is still the great value. But craftspersonship (Merriam-Webster hates me) is all about quality and we all know you need good tools to craft great music. Don't we all want a good deal on great tools?
Case in point: two of my past hobbies were photography and target shooting. I shared both activities with a good friend named Bob. Bob had more substantial means than I and it showed in the instruments we used in our hobbies. While I used a relatively expensive medium-format camera, Bob's camera was the ultimate European model. It boasted features like unseen internals forged from 100% pure unobtanium. Our target rifles were the same model. Of course, Bob's rifle had nearly all the upgrades available. On any given day, the results of our efforts could be equal. Whether shooting subjects or paper targets, my results sometimes even surpassed Bob's. I was a capable craftsperson using high-quality tools. Though immeasurably close in ability, the main difference was the more reasonable price I paid for my tools.
More mics for less money
Whether making good music is your vocation or hobby, crafting it for an audience begins with high-quality microphones. Sterling Audio's line of condenser mics epitomizes the top-end-at-a-great-price concept. Superb sound reproduction, advanced design, impeccable construction, and outstanding value make these mics the smart choice for the discerning craftsperson.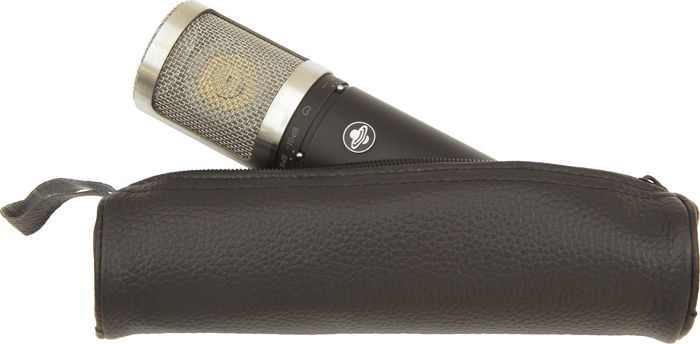 The small diaphragm models feature a thin, six-micron evaporated gold Mylar diaphragm that is engineered to pick up maximum definition and detail from acoustic instruments. You'll get outstanding results when capturing sound from pianos, drums, guitars, and more. Warm FET circuitry means minimum noise and crisp sonics.
Sterling Audio's large diaphragm mics feature an advanced Disk Resonator technology that provides the unique ability to compensate for the 14kHz frequency roll-off that is common with large diaphragm mics. This usually results in a lack of brilliance in the higher frequencies. Other manufacturers' models generally compensate for this phenomenon by cutting other frequencies and then increasing the entire signal to help level out the frequency range. The result is usually increased noise. The Disk Resonator system incorporates a brass umbrella that protrudes from the center of the diaphragm and gently boosts the diaphragm sensitivity to shorter sound waves, allowing it to respond more accurately to higher frequencies. The result, technically speaking, is optimal sensitivity, full frequency response, and a low signal-to-noise ratio. Plainly speaking, the result is a plainly better sound. Another innovation that contributes to the Sterling Audio large diaphragm mic's sensitivity is the diaphragm membrane. While most modern condenser diaphragms are six to 12 microns thick, these mics boast a highly resilient 3M Mylar diaphragm that measures a mere three microns (except the differently designed ST77, see below).
Let's look at the lineup:
---
All models feature rugged brass bodies and include a carrying case.
ST31 Small Diaphragm FET Mic
The ST31 is an ideal choice for drum overheads, amplifiers, and acoustic instruments. Includes a rugged vinyl zipper case and swiveling hard mount.
ST51 Large Diaphragm FET Mic
The ST51 is a large 1-1/4" capsule model that uses FET Class-A electronics to deliver excellent transient response and warm sound for both vocal and instrument capture. Includes a rugged vinyl zipper case and hard mount.
ST33 Small Diaphragm Class-A FET Mic
The ST33 will be your workhorse for guitar amps, drum overheads, acoustic guitars, and vocals. It too features FET Class-A electronics for warm, smooth reproduction. It includes a handsome, moisture-resistant, foam-lined aluminum case and hard mount.
ST55 Large Diaphragm FET Mic
Here's another great mic with that warm FET Class-A-produced sound. The ST55 is ideal for your acoustic instruments and will excel for vocals with an optional pop filter. It has a large 1-1/4" capsule. It includes a hard mount and vinyl zipper case.
ST44 Small Diaphragm Tube Condenser Mic
The ST44 is one good tube mic that delivers quality sound at a great price. The Class-A triode circuitry and low-noise, USA-made vacuum tube provide outstanding detail for acoustic instruments, overhead vocals, and more. It includes a PSM1 power supply, SM3 shockmount, and foam-lined aluminum carry case.
ST66 Large Diaphragm Tube Mic
If you're looking for a good deal on a high-end, large diaphragm condenser mic, the ST66 has the right stuff and price. Tube-transformer Class-A technology brings you that unmistakable detail that makes vocals sparkle. You get a switchable 75Hz/12dB/octave high-pass filter and low-noise GT6205M USA-made tube. Includes PSM1 power supply, SM-4 shockmount, and protective zippered vinyl case.
ST77 Studio Condenser Mic
Now you can have that quality vintage FET sound for your vocals and instruments at a very reasonable price with the ST77. This magnificent microphone has a Class-A discrete FET amp that was specially designed to match its cardioid, large diaphragm capsule. The eight-micron gold-sputtered capsule is sized and tuned for a silky and airy top end with a full, warm midrange reminiscent of vintage mics. Includes a specially designed SM-7 shockmount, custom foam windscreen, and attractive mahogany-colored storage case.
Tags: Recording Microphones