Hands-On Review: MXL R40 Ribbon Microphone
Classic ribbon mic quality at home studio prices
By Tom Foster
Harmony Central Contributor
When Musician's Friend asked me to take a look at the MXL R40 ribbon mic, I geared up for a review session focusing on a delicate and expensive microphone. Then I got the punchline: the MXL R40 costs under $130! This seemed absurd—how could you get that smooth ribbon mic sound for the same cost as some live dynamic mics? Yet that's what MXL did with their new R40—an affordable ribbon microphone aimed solidly at the home or project studio.

The big "ribbon" deal
Why my excitement over a ribbon mic? Once upon a time ribbon microphones set the standard for studio recordings, but their fragility and expense made them less than practical. Unlike condenser or dynamic microphones, a ribbon's diaphragm is very thin piece of corrugated metal suspended at the edges. Consequently, ribbon mics are far more sensitive to handling.
The reason the ribbon mic sound is so popular is that ribbon mic technology smoothly rolls off the high and low frequencies coming in, preserving and enhancing the midrange frequencies. This makes it an ideal microphone for the voice, which is why you'll still find them used in talk radio shows and high-end studio applications.
Unfortunately, the ribbon diaphragm (usually aluminum) is very sensitive to shocks. With the classic RCA 44, air entering the capsule—generated by simply walking across a room with it—could shake the ribbon off its mounting. Consequently, the more rugged dynamic mics were chosen for live gigs. Still, the ribbon sound is a great asset in studio recordings, making the sound of the voice and acoustic instruments as smooth and flattering as possible—yet retaining a great degree of transparency.
A delicate tank
The MXL R40 sets a new standard for price and durability in ribbon microphones. Looking elegant in its solid blue and chrome metal casing, the R40 is built as solidly as you would expect in a professional studio mic. It has no moving parts or switches—just an XLR output jack. Housed inside a sturdy molded-plastic case, the MXL R40 also comes with a shock mount for installation on standard mic stands.
However rugged it is, MXL still recommends using the R40 with a pop filter. While the R40's ribbon element is robust, according to MXL, loud ambient sounds could potentially do some damage. (Oh yeah, and never blow into any ribbon mic to see if it's on.)
Ribbon mics are low-sensitivity mics, meaning that they output very low voltage, and therefore require preamps with high gain capabilities. To allow use with any preamp, certain manufacturers add active electronics to their ribbons. The tradeoff is that the active circuits color the mic's sound. To keep the signal path as pure as possible, MXL chose a passive design for the R40.
By having only two components—the ribbon motor and the transformer magnet—the R40 keeps that classic, smooth, ribbon-mic sound.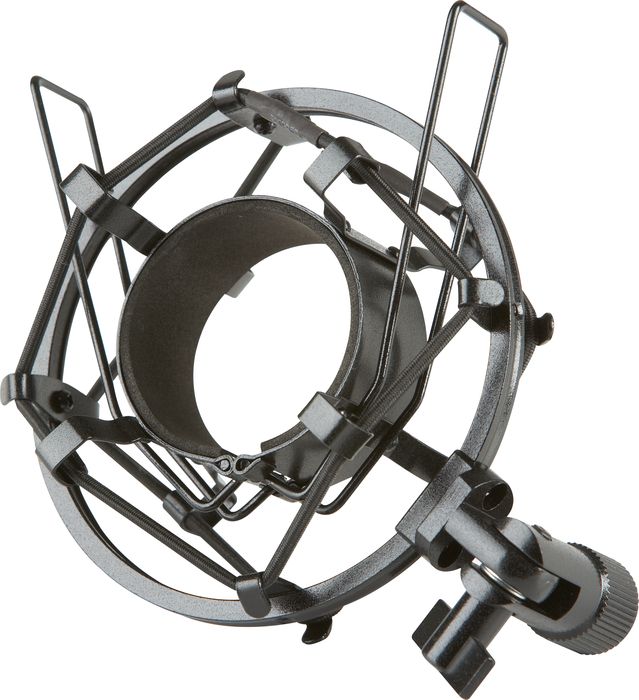 In the studio
To test the R40, I took it into a local recording studio and used it to record vocals, guitar, and sax for a friend's album project.  While the MXL R40 does not have adjustable polar pattern, pad, or filter switches, we found that by changing the R40's placement, we could get a nice variety of "colors" out of it.
The MXL R40 has a figure-8 pickup pattern; picking up sound from both the front and back of the mic. This turned out to be a boon when we recorded vocal harmonies. Balancing individual harmony tracks via mixing can be a long and arduous exercise in fader riding. It's much easier to get a good vocal blend when the vocalists depend on their ears. Since the singers were used to performing together onstage, we placed them on either side of the R40 in the studio. We captured a sweet vocal track with a much more coherent balance than fader riding would ever have allowed.
We also recorded a Mesa Boogie guitar amp by placing the R40 back from the cabinet a bit, turning the mic slightly off-axis to protect the ribbon from air hitting it directly. The R40 captured both the nuance of performance and the lovely, raunchy guitar tone emanating from the Mesa.
Finally, we tried out a tenor saxophone with the R40 placed about eight inches from the bell; it worked like a champ. Even when our player dug into a solo with some low growls, the R40 translated every transient and rasp faithfully into the system.
A great buy
With its solid construction, clean sound, and amazing price, the MXL R40 is an excellent addition to any small-to-medium-sized studio. The quality of your home studio vocals will increase exponentially, plus you'll get that distinctive ribbon mic sound, all without deflating your wallet.
Features & Specs
20Hz -17kHz frequency range
Figure-8 polar pattern
Shock mount, case, and microfiber cleaning cloth included
Low-cost, high quality
No active electronics to color sound
Tags: Recording Microphones MXL