Hands-On Review: MXL Drum Cube Pro & Guitar Cube Pro Mics
Condensers that rock
By Jon Chappell
Senior Editor, Harmony Central
Recent advances in technology have allowed recordists to choose higher fidelity condenser mics for capturing high sound levels created by kick drums, toms, and guitar amps—traditionally tasks for dynamic mics that can better withstand the increased sound pressure levels (SPL) of those instruments. MXL's Cube mic has been functioning nicely for several years now as a tom, overhead, and even vocal mic—a versatile and economical choice for multiple recording tasks. Now, MXL has broadened the Cube microphone line to include pro versions for drums and guitar.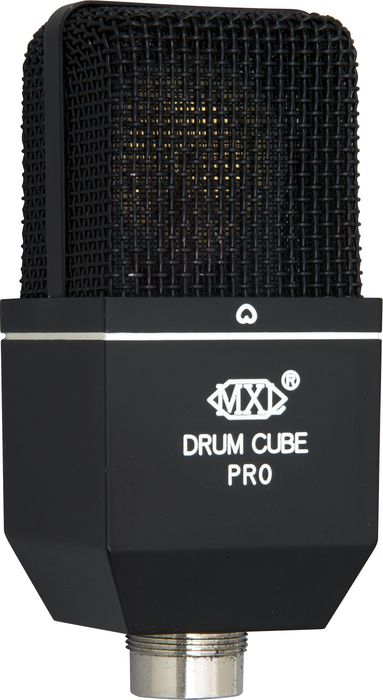 Good miking—Cubed
MXL's Drum Cube Pro and Guitar Cube Pro microphones are mighty mites that provide excellent SPL handling and frequency-response characteristics. Both are cardioid-pattern mics (they pick up most sound from directly in front of the capsule) that can handle 140dB SPL—more than enough to survive a full-throttle beating by metal drummers and axe-wielders. And the MXL mics can generate the full, audible tonal range of 20Hz to 20kHz, so every beat or note will be as crisp and clean as it is loud. With striking good looks and heft that evoke much higher-priced condensers, the black Drum Cube Pro and chrome Guitar Cube Pro are stylish, as well as sensible, additions to your mic closet.
Both front-address mics require 48-volt phantom power and employ 32mm-diameter, 6-micron-thick, gold-sputtered capsules. Each mic comes with a nice vinyl slipcase and basic screw-on mount. As with all condensers, you should be aware of the Cube Pro's sensitivity to moisture, so use a pop filter if you plan to record vocals, and always use the highest-quality cables you can get. (MXL recommends Mogami cables.)
In the studio
The MXL Cube Pro's compact size made it a breeze to record with. I took the Drum Cube Pro and Guitar Cube Pro to a session with a band that usually records its rehearsals tightly spaced and with dynamic mics. Employing condensers turned the session into a more standard recording date, so we spaced the players more widely and strategically isolated the instruments. The extra fidelity provided by the Drum Cube Pro and Guitar Cube Pro mics required a bit of experimentation to optimize the sound and control feedback.
But what a difference the Cube Pro mics made in the recording. After a pass with the Drum Cube Pro positioned slightly inside the open-front kick, the band liked the added snap so much that they decided to overdub the drums with the mic used as an overhead, picking up both cymbals and toms. We had done a good job controlling bleed into the Cube mic, knowing that the cardioid pattern of a condenser is wider than that of a dynamic, and thus more susceptible to bleed from other drums. As an overhead mic, the Drum Cube Pro brought a new level of realism to the cymbals, and was placed well enough to get a good mono mix of toms, which also got new life from the condenser.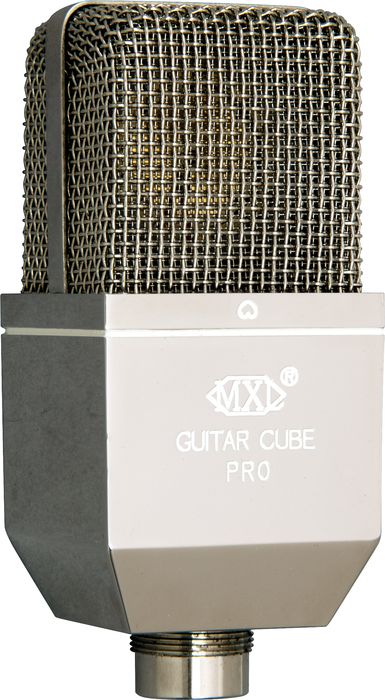 The MXL Guitar Cube Pro was just as successful on the session's amps, which ranged from clean and bright Roland-type boxes for multiple strummed-chord layers to VOX-type crunchy lead sounds. Although popular dynamic mics can work amazingly well for the crunch assignment, having a full-range condenser brought out every nuance of the band's mix of clean and dirty guitar sounds. We even did a pass on the bass amp and found that the new clarity enhanced the potential for bass in the mix since the band could bring the bottom forward at selected points without worrying about the bass overwhelming the track.
At the end of the day, the band was thinking less about "quick and dirty" recording with double-duty live-sound dynamic mics, and more about making finalized and Web-ready recordings with stereo Guitar Cube Pros and Drum Cube Pros. At each Cube Pro's surprisingly low price, this is a reasonable course for even young bands to adopt.
Into the Cube
MXL has brought new quality and affordability to the multipurpose large-diaphragm condenser mic. The Drum Cube Pro and Guitar Cube Pro are great choices for bands or individual musicians looking to improve the quality of their sound without paying for a hyper-delicate and traditionally expensive microphone. The Cube's sound quality is very impressive on a range of instruments (including vocals), and with a bit of experimentation, you'll find that the Drum Cube Pro and Guitar Cube Pro microphones can handle many more jobs—and do those jobs with excellence.
Features & Specs
Condenser mic
Cardioid polar pattern
Frequency response: 20Hz–20kHz
140dB maximum sound pressure level
48V phantom power
1 lb.
Black (Drum Cube Pro); Chrome (Guitar Cube Pro)