Hands-On Review: Cakewalk SONAR V-Studio 700 Console
Software meets hardware
By Craig Anderton
Editor in Chief, Harmony Central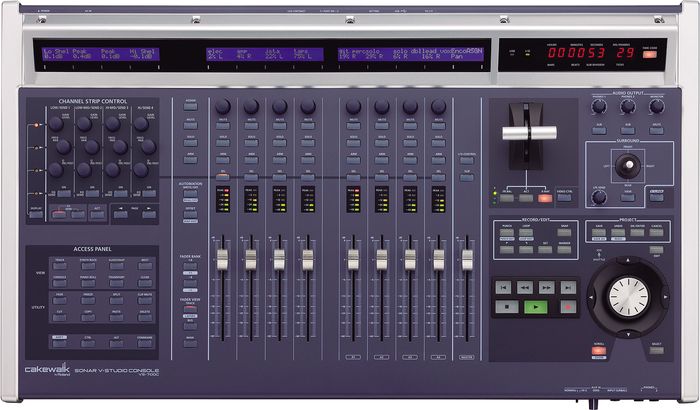 I've been using SONAR since it was introduced in 2001, and taken advantage of its continued refinements over the years—particularly with respect to workflow. But there are two elements that have been on my wish list: a dedicated hardware controller with super-tight integration between software and hardware, and integration with other hardware (like interfaces and synths) so there are never any time-sucking issues like "will this piece of gear work with this other piece of gear?"
When Cakewalk began partnering with Roland, I hoped that the two companies would combine their respective software and hardware expertise to produce a complete, turnkey system. And now, I can cross that off my wish list, along with a few other things I didn't even think to wish for: The VS-700 is the next generation of V-Studio, based on Cakewalk's SONAR 8 Producer DAW.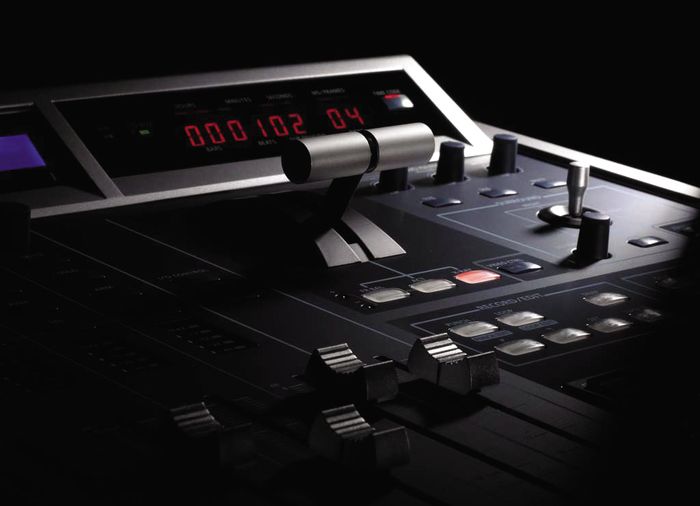 The VS-700 hardware controller
The Cakewalk SONAR V-Studio 700 consists of the VS-700C hardware controller with a huge feature set designed to integrate tightly with SONAR 8. The heart of the controller is nine motorized, touch-sensitive faders with intelligent bankswitching. You can even "lock" faders to always control particular channels, regardless of what bank you've dialed in for the other faders. Sure, you can do automation with a mouse—but being able to program automation levels for several channels at once, with instant recall, speeds the mixdown process and lets you put more "human feel" into your mixes.
But mixing and control are about more than just levels. 12 rotary encoders can switch to control sends, channel EQs (four bands per channel), or tweak soft synth or signal processor plug-in parameters via Cakewalk's clever Active Controller Technology (ACT) protocol. Simply stated, you can tweak parameters for whatever plug-in has the focus with the same ease as tweaking a hardware device—because you are using hardware.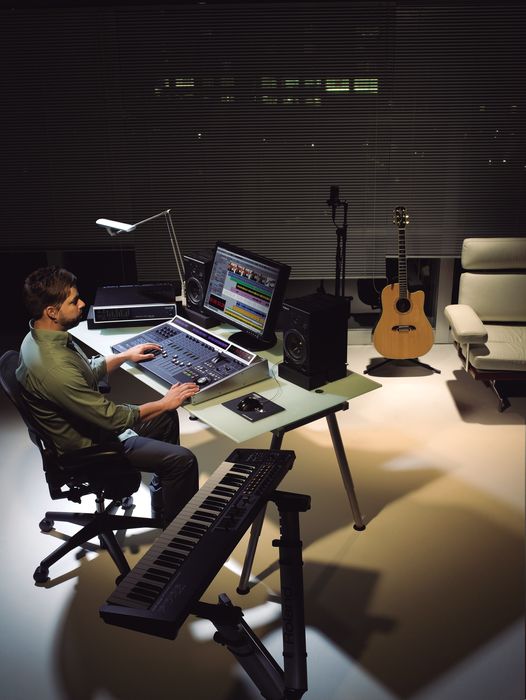 The unambiguous string of LCD and LED displays keeps you informed at all times of your project's status, including a counter that's equally at home with SMPTE or bars/beats. There's even V-Link capability for those working with video and a unique T-Bar controller that can perform a variety of control functions: Surround, ACT, and SONAR's proprietary X-Ray option. (X-Ray adds varying degrees of transparency to plug-ins so you can see, for example, the automation on a track that's being generated by moving the plug-in's controls.)
Of course, there are many other workflow-oriented controls: transport, jog/shuttle wheel, surround joystick, looping control, markers, mute, solo, track arm, select, and an access panel of shortcuts for single-button access to particular sequence views. If you don't like the default options, you can modify them as desired with custom control panel software. All of these buttons and controls put the most important and oft-used SONAR parameters at your fingertips.
The VS-700R interface
But Roland didn't stop with the controller. The VS-700 system includes the VS-700R I/O, an advanced USB 2.0 audio interface with eight separate balanced XLR and 1/4" inputs, stereo XLR and 1/4" outs, eight TRS auxiliary outs (for buses, sends, integrating external hardware effects, etc.), word clock I/O, MIDI I/O, ADAT I/O, AES/EBU and coaxial digital I/O, extensive metering, and switch-selectable sample rate from 44.1 to 192kHz. The system also features Roland's new digitally controlled mic preamps—which hold their own against any "designer" mic preamps you'd otherwise need to add to a system. Digital control doesn't only mean truly repeatable settings; you can save presets for mic gains—for example, dial up one preset when miking drums, and another when doing background vocals. If you need more I/O, the system is expandable from 21 ins/30 outs to 41 ins/56 outs.
Although I have plenty of I/O, between the sound quality and integration with SONAR, the VS-700R has retired most of them. What's more, Roland's Fantom VS synthesizer is built into the system, with 1,400 patches that integrate with SONAR's workflow as a "hardware VSTi"—with negligible latency and CPU loading. You can also load an additional ARX synthesis expansion board for more patches.
SONAR 8 Producer software
What makes this hardware truly appealing is what it controls: SONAR 8 Producer, the latest version of Cakewalk's flagship DAW that's used by everyone from Slipknot to Sun Studios—the iconic studio where Elvis, Jerry Lee Lewis, and Johnny Cash launched their recording careers. SONAR 8 builds in super-tight integration with the entire system, and features a redesigned, 64-bit audio engine with unusually low latency. Playing a virtual instrument or running a guitar through an amp simulator (something I do a lot), finally has the immediacy and feel of the real thing.
Speaking of virtual instruments and amp sims, SONAR 8 features a complement of virtual instruments including Pentagon, z3ta+, PSYN II, Session Drummer 2, TruePianos Amber, RXP REX file player, the full version of the award-winning Rapture synth, and the full version of Dimension Pro—a versatile, high-quality sample player. New instruments and processors, like Beatscape (a novel looping/performance beat machine) and the Tube Leveler, Transient Shaper, Channel Tools, and Native Instruments' Guitar Rig LE, mean that for most projects you won't even need other plug-ins.
These are fine tools, but there's a bigger significance: SONAR 8 is fully compatible with not just Windows XP and Windows Vista 32-bit, but also Windows Vista 64-bit for increased efficiency and the ability to access up to 128GB of RAM. With a true 64-bit production environment, including the plug-ins, you gain not only speed but levels of efficiency that simply aren't possible with 32-bit systems. SONAR 8 is even supported for Apple Intel-based computers running Boot Camp.
Perhaps most important, the sound quality is state-of-the-art. The 24-bit/192kHz hardware I/O complements SONAR's end-to-end, double-precision 64-bit resolution (not just for specific stages)—that's as good as it gets with current technology. This allows the entire system to take full advantage of the I/O's audio characteristics. Listen to a long reverb tail, and crank up the volume as it fades: No matter how low the level goes, you won't hear "fizzing" or distortion. Additional editing options—like clip groups—simplify clip manipulation and editing. I also appreciate the literally hundreds of tweaks and optimizations that have made the audio performance more efficient.
Finally, I'm very impressed by the price: The SONAR V-Studio 700 has everything needed for a turnkey audio/video solution—VS-700C hands-on control (and I've used its Mackie control functionality with many other programs), VS-700R audiophile-quality I/O, Roland's Fantom hardware synthesis, a ton of plug-ins, and Cakewalk's software expertise—for considerably less than you'd pay for these elements individually. I've been using the V-Studio system for a few months now, and I can't imagine going back to the way I used to do work with SONAR—and best of all, I'm getting projects done faster!